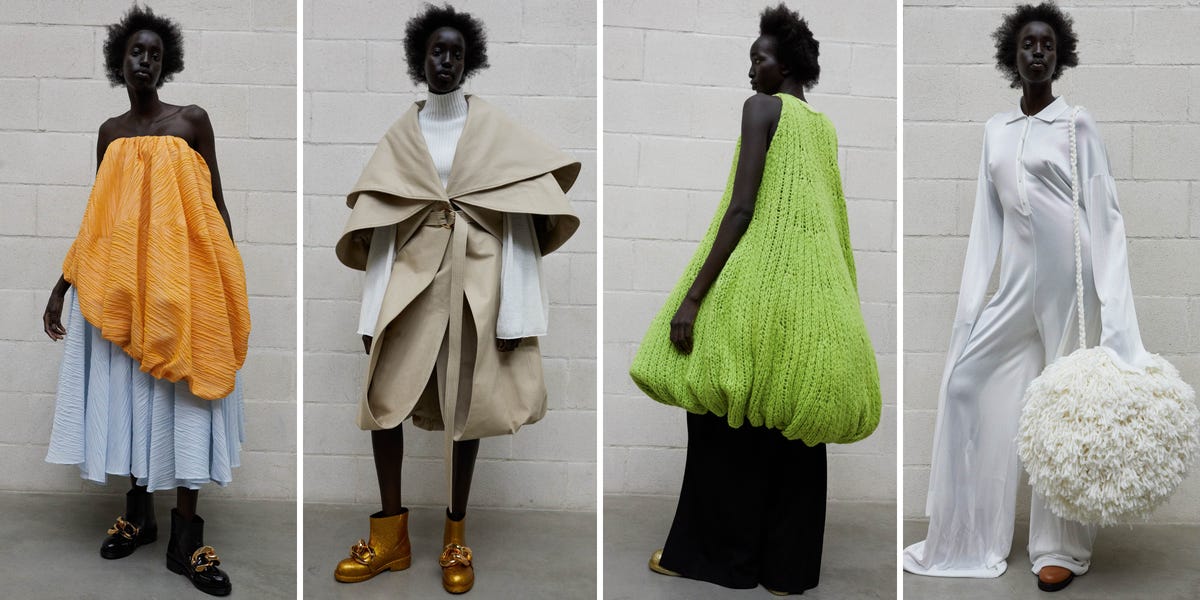 London Fashion Week Fall 2021
London is synonymous with youth, color, vibrancy, and innovation in the fashion realm. That energy continues even in the midst of a lockdown—and we have to give a nod to that creative resilience. Here, see the best looks coming out of London Fashion Week now.
---
JW Anderson
Sometimes a fashion show is more than a fashion show, and there's no doubting that what Jonathan Anderson crafted (and curated) for fall 2021 will be referenced in future career retrospectives. Far from a traditional runway, the Juergen Teller–shot images showed the clothes alongside pieces from artists Dame Magdalene Odundo and Shawanda Corbett (and the women themselves—both agreed to be photographed by Teller as part of the collection). By sitting apparel alongside ceramic alongside performance art, the designer showed fall as something more than fashion—it's "artistic output broadly." The dresses, coats, and tops were all voluminous—silhouettes before garments—and evoked the "totemic structures" he was musing on. Form is arguably what informs all disciplines of art, and Anderson reminded us that fashion is no different. Seeing the tightly edited collection through the lens of Teller was paramount to the experience too. Rather than viewing gangly limbs snapped mid-stride on a runway, we digested each piece on model Nyaueth Riam as she arranged herself into sculptural shapes. Her participation wasn't an afterthought or a requirement, but a key decision made by Anderson as curator. She showed each article as what it is: a piece of art, carefully considered from each angle and intended to tell an evolving story each time you come across it. —Leah Melby Clinton
Erdem
This season, Erdem took us to the ballet—but it wasn't the tulle-skirted, blush-toned whimsy one would expect. Instead, we were taken backstage, on stage, in the wings, to rehearsals, and were even paid a visit from some ballet mistresses in strict tailoring. The designer looked at all sides of the art form, inspired by those in dance history that broke with convention. Margot Fonteyn, who danced with a partner almost two decades her junior in the '60s was a starting point for Erdem, who tapped four dancers past and present to walk on his collection stage.
Leggings, knits, and bralettes nodded to rehearsal dressing, while coats thrown over ostrich feather skirts were meant to feel like a dancer heading out after a performance with no time to change. There were some peacock moments as well: crystal-encrusted dresses, full skirts, and feathered headpieces called to the costumes of Swan Lake. Like many designers this season, Erdem seems to be reconsidering how we'll address dressing up post-lockdown; per his signature dark romance, his woman will do so elegantly—but with some edge. —Carrie Goldberg
Simone Rocha
Simone Rocha's show notes are always up for interpretation. They're a poem of sorts, a collection of thoughts—and she allows us to experience the season's looks through their lens rather than as a creed to understanding her inspiration. This season, the notes read: "The Winter Roses…Precise, stronger, signature. Thinking of clothes in a protective and practical way, fragile rebels." Rocha's work is always a contrast of hard and soft, masculine and feminine, drama without being too delicate. And at a time when we all feel we need protection and strength to face the world around us, Rocha is offering a solution: returning to one's signatures, as she always evolves on her own.
It's about owning one's uniform, but with an innocence that doesn't play by the rules. Fall 2021 was decidedly tougher than Rochas's Spring showing, with leather and biker jackets replacing most of the pearls and frills. But the collection was not without Rocha staples, which she outlined clearly: "Embroidered tulles, Hand-painted flowers on pearls. Porcelain cameos, encased in gold. The Three Graces. Satin, leather, tulle." —Carrie Goldberg
Art School
Fashion isn't always democratic, but Art School's Eden Loweth is firmly of the camp that, while not exactly one-size-fits-all, inclusivity must have a seat at the table. The aim was to make clothes "tolerant and easy to wear for all bodies and genders," an order achieved by beautiful dresses cut on the bias, draping, and expert tailoring (and supported by the phenomenally diverse casting spearheaded by the organizers at London Trans Pride). With sweeping gowns and spots of sparkle, there's definitely some drama, but it's what one might call "daytime drama"—pieces that are meant to be worn and mixed in with real life. Every life.—Leah Melby Clinton
Duro Olowu
For those naysayers that suggest fashion is of no use during a pandemic, Duro Olowu's print-heavy fall collection filled with modernist florals and abstract python prints in vivid shades of burnt orange, fuchsia, green, and turquoise inspired by the work of painters Barkley L. Hendricks and Édouard Vuillard offered a brilliant rejoinder. The designer and curator often draws inspiration from art, and at a time when many museums and other cherished cultural institutions remain closed, he wants us to soak up beauty wherever we can. Through multi print 'bandana" neck dresses or voluminous swing coats casually tossed over devore silk chiffon gowns, say, that whisper of happier times. Olowu was remembering the "women who dash across the street wherever I am in the world, New York or London" he explained. "I just think, 'thank you for bringing a bit of energy to my life.'" —Alison S. Cohn
Osman
From creation to presentation, Osman Yousefzada wants us to think about the bigger picture: We're at a time of great fracture, and working together is the key. "Our footprints that intermingled in the past," the designer penned in the collection's accompanying poem, "I'm coming to protrude forward and create our new cosmos, to heal, to muster up our amulets and potions." There's a bit of literal magic woven throughout: Heavily hand-worked coats take artisans in Uzbekistan up to 50 hours per piece to create, and shimmering, mirror-embroidered pieces come to life under expert hands in Rajasthan, India. Meant to unfold like a ritual imbued with all the accompanying ceremony, fall reveals voluminous, dramatic shapes that are the perfect vessels to carry a message far beyond the altar.—Leah Melby Clinton
Preen by Thornton Bregazzi
For the spring 2021 season, designers Justin Thornton and Thea Bregazzi were inspired by two gardens. The first was their own expansive backyard in east Suffolk, where the couple have been staying since December. And the other is Grey Gardens, the documentary about Big Edie and Little Edie, a reclusive and peculiar mother-daughter duo who fell from grace. Both "gardens" reflect a sense of isolation, of shunning the outside world. But this doesn't mean that joy and humor are completely lost. The designers showcased this duality with their selection of prairie-inspired dresses in bright hues or dainty floral prints, which were largely accessorized with silk head scarves (a nod to Little Edie's unmistakable style). Flower power is a go-to for the Preen brand, and their frocks certainly continued this message—albeit in a much softer and daintier way then they've shown in past seasons. Adding to this relaxed vibe were the chic knits and sleek oversized coats. —Barry Samaha
Preen by Thornton Bregazzi
Preen by Thornton Bregazzi
Preen by Thornton Bregazzi
Preen by Thornton Bregazzi
Molly Goddard
Like so many of us, Molly Goddard was missing things—the library, people-watching. But instead of letting it get her down she turned to other things, and the books in particular that inspire her: Tina Barney's Europeans, David Douglas Duncan's Goodbye
Picasso, Terence Conran's House reads, and DIY books, "which occasionally feature a well-dressed person in a beautiful home." She landed on images of generational and classic dressing—and though the voluminous tulle dresses she's known for may not align with those ideas, Fair Isle knits and plaids certainly do. Lest you don't want to miss out on the fantasy of brightly hued, floor-length layered organza dresses, they're still here. This season, they're inspired by classic prom and party dresses. And they're the most optimistic pieces we've seen yet this season. —Kerry Pieri
Roksanda
Roksanda Ilinčić is a veritable master at color-blocking; her juxtaposition of neutral hues with vivid colors or sweet pastels on oversized tailored separates continues to go unmatched. The London-based designer is also a lover of Abstract Expressionism, often showcasing bold, painterly prints on voluminous silhouettes. For the fall 2021 season, she largely stuck to this MO, but imbued her collection with a greater sense of ease. Her suits appeared roomier, and there was an abundance of kaftans and blanket coats. Still, she did not forgo fantasy, offering larger-than-life taffeta gowns and flowing silk dresses with exuberant prints alongside the more practical styles that largely reflected quarantine life. —Barry Samaha
Emilia Wickstead
Finding out Emilia Wickstead drew inspiration from classic cinema is hardly a shock. The Brit designer has a way with the classic and ladylike. For fall 2021, the cinematography that drew her in was based on three films: Teorema (1968) by Pier Paolo Pasolini, I Am Love (2009) by Luca Guadagnino, and Rear Window (1954) by Alfred Hitchcock. This, ladies and gents, was not comfort dressing. Traditional suiting was done up in virgin wool gabardine and soft flanella tailored close to the body, and an off-the-shoulder dress in charcoal wool had an air of '90s minimalism. A blue and white two-piece set was giving china vibes, which makes sense given Hitchcock's brief to stylist Edith Head was that Grace Kelly "was to look like a piece of Dresden china," in Rear Window. This is a collection for women who are, at heart, utterly allergic to sweatpants. —Kerry Pieri
This content is created and maintained by a third party, and imported onto this page to help users provide their email addresses. You may be able to find more information about this and similar content at piano.io